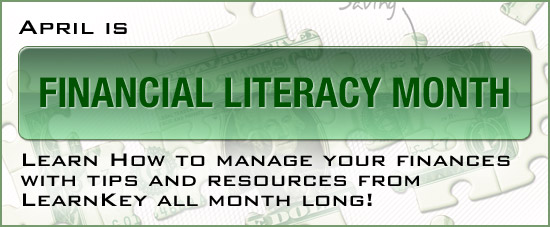 Today starts our recognition of Financial Literacy month, and in honor we will be posting tips here in the blog each day of the workweek. Each of the next four weeks will have a theme, this week is credit, next week will be debt, then spending and savings, and the last week will cover spending plans . There will also be a free white paper available to you on our website for each of the themes.
Today's tip: Building Credit
It is important to start building your credit, because a positive credit score is crucial to your finances. With a good credit score you can qualify for a home loan, get great interest rates on credit cards and loans, and you can save thousands of dollars throughout your lifetime in interest. 
Where do you start, if you do not have any credit cards or loans? The best place to start is by opening up a checking and savings account. This will help start building your credit history. It is also important to make sure that you keep accounts positive and do not overdraw your accounts or bounce checks. These can show up on you credit reports as negative marks. On the other side of this if you monitor your accounts and keep track of these accounts it can show positive behavior patterns.
For all of LearnKey's Financial Literacy Month resources, visit learnkey.com/financiallitmonth