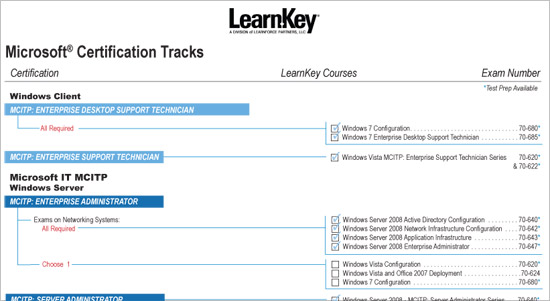 If you are like me, you profess every New Year that you are going to make changes… Well it is almost February, and I haven't even started to make any changes yet. When you decide to make these changes you usually do not take into consideration that figuring out what steps to take next can be so overwhelming, you quit before you start. For example, every year somewhere on my list is to be healthier (I am sure like many of you), but more often than not, sifting through all of the diets and exercise programs out there overwhelms me, and I just continue with my same routine.
If this sounds like you and certification is on your list this year, we have something to help you get started.
LearnKey has created an organized, easy to read document that maps out certifications and the courses you need to get certified from Microsoft, Adobe, Cisco, CIW, CompTIA, and CWNP. We did the leg work for you, so there are no good excuses for slacking off this time – and now you can cross off two things on your list, personal and professional growth!