Skip to content

Adobe CS5 Training – They Just Keep Coming!
Last week saw the release of not one or two, but four Adobe CS5 training courses. This puts us up to 7 training courses released covering 5 of the Adobe CS5 programs – Photoshop, Flash, Dreamweaver, Fireworks, and Illustrator – with InDesign and Photoshop (presented on PC) coming soon.
Two of the four courses released are part of our ACA Certification training utilizing the Windows versions of the Adobe programs, versus the previously released versions utilizing the Mac programs.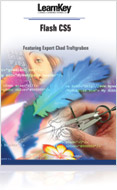 Adobe® Flash® Professional CS5 software is the industry standard for interactive authoring and delivery of immersive experiences that present consistently across personal computers, mobile devices, and screens of virtually any size and resolution. In this course you will learn everything that you need to know to become a "Rich Media Communicator." This course maps to the exam objectives and prepares you to pass the Adobe Certified Associate Rich Media Communication exam. Chad Troftgruben walks you step-by-step through all of the features of Flash and he provides you with numerous tips and tricks that you can use as you become a professional Flash developer.
Check out the promo video below or view the product page for course info.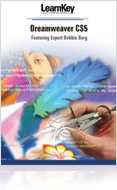 Adobe® Dreamweaver® CS5 software empowers designers and developers to build standards-based Web sites with confidence. Design visually or directly in code, develop pages with content management systems, and accurately test browser compatibility thanks to integration with Adobe® BrowserLab®, a new Adobe® CS Live® online service. CS Live services are complimentary for a limited time. In this course expert Debbie Berg will walk you step-by-step through all of the features and functions of Dreamweaver CS5 all the while preparing you for the ACA Web Communication Using Dreamweaver CS5 certification. Learn to import any FLV file directly into Dreamweaver and quickly integrate a player skin of your choosing. Test your pages in Adobe BrowserLab on multiple browsers and operating systems. Get a jump on creating standards-based Web pages with updated CSS-based starter pages. All these new features and much more are covered in LearnKey's Dreamweaver CS5 course.
Check out the promo video below or view the product page for course info.
The other two courses are not part of the ACA certification training, but cover the fundamentals of useful tools in the Adobe suite.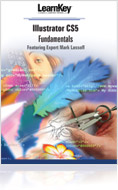 Illustrator CS5 gives you amazing new features like perspective drawing, draw shapes and scene in 1-, 2-, and 3-point linear drawing. Give your images character with the new Bristle Brush tool. Create vector objects precisely on the file's pixel grid for delivering pixel-aligned raster artwork. Whatever the vector task Illustrator has the tool to do the job.
View the product page for course info.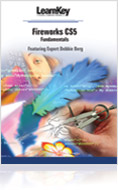 Adobe® Fireworks® CS5 software enables you to create expressive, highly optimized graphics for the Web or virtually any device — from Smartphones to kiosks to embedded displays. Create Web sites, user interfaces, and rich prototypes that are editable in both vector and bitmap modes. In this course you will learn how to quickly create wireframes from Fireworks templates. Add text, symbols, and imagery with the robust vector and bitmap toolset. Add pages and customize them quickly with Smart Guides, and export them as clickable PDF mock-ups for approval. Debbie's ability to take each concept and break them down into simple step-by-step guides makes this course a must when learning new applications like Fireworks CS5.
View the product page for course info.
Keep an eye out later this week for more releases!