Skip to content

The Microsoft Technology Associate (MTA) certification track is a great way for those looking to enter the IT career field to gain knowledge and a Microsoft certification, which will always enhance a resume when looking to obtain a position.
The MTA certifications are in the first rung on the ladder of Microsoft certifications. Once a person has some tangible experience in an IT discipline, the next certification to get is a Microsoft Certified Solutions Associate certification (MCSA). From there, the next level of expertise and prestige in Microsoft certifications is that of a Microsoft Certified Solutions Expert (MCSE).
So what does this pyramid of certifications look like?  Here is an example track for one trying to become a Windows Server administrator, taken directly from Microsoft's web site: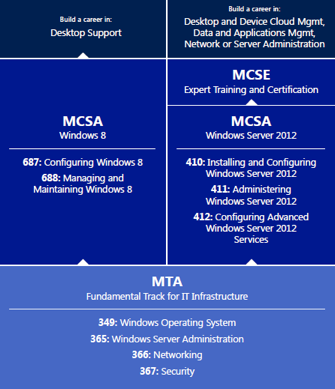 We currently have five MTA courses in our library and plan on releasing a sixth course by the end of the year.
Exam 98-361: Software Development Fundamentals
Exam 98-364: Database Fundamentals
Exam 98-365: Windows Server Administration Fundamentals
Exam 98-366: Networking Fundamentals
Exam 98-367: Security Fundamentals
If you think a career in the IT field is for you and the MTA certifications are your path, give us a call or visit our website and we will get your started.