Skip to content

Tag:
Tristan Roberts employee of the month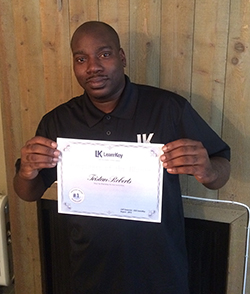 One Better Learning Systems/LearnKey program we are very proud of is our Blue Ocean IT & Career Ready program for military veterans. It is a true "education to employment echo system" built around veterans helping veterans.
This means veteran students get tutored and supported by other veteran students who have graduated the program and are hired by LearnKey.
This month it gives me great pleasure to announce that Tristan Roberts has been nominated and selected by his leadership as our newest employee of the month for his efforts both as a team player and individual contributor!
As our first graduate of the Blue Ocean program he joined our team last August in a new role as a LearnKey technical support/tutor. During this time we have watched him embrace our core values: Ease, Value, and Trust, with the number one priority of helping our veteran students get certified and career ready. Most recently he has taken on the role of mentor for two new graduating students who are now part of his team and he has done it with passion and commitment, scheduling their work across our quality control, client services, veteran services, and technical support teams to ensure we make better courses and provide better support to our veteran students!
He has also been instrumental in rolling out other support services (i.e. Tutor Tuesdays, user forums, etc.) this past year, again all driven around driving a better learning experience for our students.
Tristan is an amazing father too, and by reading some fun facts through a short Q&A below you should not be surprised by who his influence is outside of work:
How many siblings do you have? Two (2) Brothers, (Jovi, Jimmy) one (1) Sister (Malieka)
What is your favorite movie? Always the last movie I saw with my daughter (Inside Out)
What is your favorite band? New Chum's (Seth's Band)
What is your favorite vacation spot? I'll let you know when I take a vacation
What was your high school's mascot? Colt
What is the weirdest combination of foods you have eaten? MREs (not enough room to explain)
What is/was the name of your favorite pet? My daughter's fish is named Blue (Betta)
What was your first car? 87 Honda Accord (Hatchback)
If you could go anywhere in the world where would it be? Jamaica/Australia
Would you rather sky dive, bungee jump, zip line, or parasail? Parasail
What is the funniest saying you have heard working here? I heard someone came to the Halloween party dressed as a RUBBERtree. (Hilarious)
We are very proud to have Tristan as part of our team and truly value the contributions he makes every day. His passion for helping others is second to none!