Skip to content

Tag:
Skyler Knight LearnKey
Amazing people do amazing things and that is not by accident. Have you every met someone who just "gets it"? When we do there is a saying "they get the why".
That could not be more evident then by our newest LearnKey, Better Learning Systems employee of the month Skyler Knight, a LearnKey designer in our Cedar City, UT office. The "why" is why we do what we do, not the what and how of our products and services; its the passion of wanting to help people "fulfill their dreams through better learning systems". That is why we do what we do.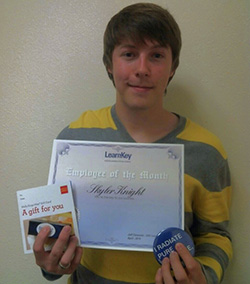 Skyler demonstrates that through always keeping our core values front and center. Here's what his leader had to say  through his nomination:
"Skyler works every day to ensure he is meeting our core values (Ease, Value, and Trust). He is Easy to work with and we trust he will get the job done because he's the first to finish assignments and brings so much value to our production team by always going above and beyond".
In my own personal experience with Skyler he can also pull a fast one as he and another employee swapped places in April 1st of this year getting me to believe one of his peers was actually him! It worked and I owe him and Jordan big time the next time I am in Cedar!
For fun, here's some more insight to Skyler:
1. How many siblings do you have? I have 3 siblings, one older sister, one older brother, and one younger sister.
2. What is your favorite movie? My current favorite movie is Abraham Lincoln Vampire Killer.
3. What is your favorite band? My current favorite band is Twenty One Pilots.
4. What is your favorite vacation spot? I don't take too many vacations but my most recent trip was to South Korea. I would say that it is by far my favorite spot to travel to. There are so many beautiful buildings to see and a lot of beaches to admire there as well.
5. What was your high school's mascot? My high school's mascot was a Ram.
6. What is the weirdest combination of foods you have eaten? The weirdest combination of food I've ever eaten was live (still moving) octopus with sesame oil, raw fish, and salt.
7. What is/was the name of your favorite pet?  The name of my favorite pet was Halo.
8. What was your first car?  The first car I ever owned was a green 1995 Jeep Cherokee
9. If you could go anywhere in the world where would it be? If I could go anywhere in the world right now I would travel to Japan.
10. Would you rather sky dive, bungee jump, zip line, or parasail? I think I would rather zip line if I had to choose from the above options. Maybe someday if I gain the courage I would like to go bungee jumping or sky diving too.
11. What is the funniest saying you have heard working here?  "Will you smell my yogurt?" –Chris Walser
12. If you could eat dinner with anyone from the past, present, or future, who would it be and why? I would choose to eat dinner with a philosopher from the past, perhaps Socrates. The reason being that I would like to ask him about his personal philosophies about knowledge and gain insight and wisdom from someone who is not overwhelmed by all of the distractions of our modern world.
Please join me in congratulating Skyler and reminding him how fortunate to we feel to have him as part of our team.
Regards,
Jeff Coruccini