Skip to content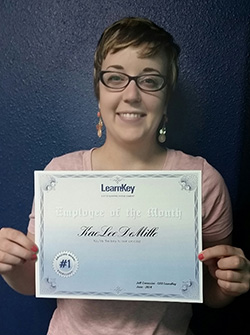 This month we feature an all around team player from our Cedar City, UT office. Her tenure at LearnKey includes roles on the graphic design team and most recently upon her return she is part of our "rock star" technical writing team.
KaeLee DeMille is her name and helping out anyway she can, even painting the office, is her game! That's right we recently had a painting party and she was an integral part , with paint brush in hand helping out anyway she can.
Another great quality is that she is always striving to improve her knowledge and skill set which was noted as she recently passed her Microsoft Word Certification exam. That is a big accomplishment considering her current role is technical writing and leveraging her knowledge of Word and the exam process will only help us make our courses better.
Here is what her team leader had to say during the nomination process "KaeLee is a fantastic individual who when she first started at LearnKey worked as one of our talented Designers. After graduating from Southern Utah University and a two year hiatus, she rejoined LearnKey in our Technical Writing department and hit the ground running."
Take a minute to learn some fun facts about KaeLee and her family:
1. How many siblings do you have? 1 younger brother.
2. What is your favorite movie? Dan in Real Life, or anything with Steve Carell 😉
3. What is your favorite band? Currently: The Summerset; but I never get sick of The Format
4. What is your favorite vacation spot? San Diego (I've been there once.)
5. What was your high school's mascot? Golden Eagles
6. What is the weirdest combination of foods you have eaten? Escargot on a French class field trip in high school.
7. What is/was the name of your favorite pet? I have two dogs, Dani and Bubba.
8. What was your first car? 1990 Toyota Camry (Great car!)
9. If you could go anywhere in the world where would it be? France
10. Would you rather sky dive, bungee jump, zip line, or para sail? Para sailing
11. What is the funniest saying you have heard working here? "I'm going to take a self-portrait of myself."
12. If you could eat dinner with anyone from the past, present, or future, who would it be and why? Brené Brown because her work is super interesting to me and I love her book, Daring Greatly.
Please join me in congratulating KaeLee for demonstrating our core values by making it easy for team members to work with you, always delivering value through your contributions to the writing team and building trust along the way by your inspiring actions (even when it comes to painting)!