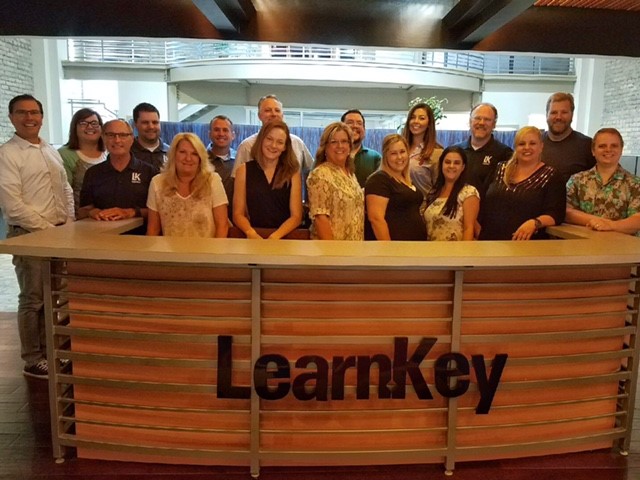 In July 2017 I decided to share an exciting adventure with my LearnKey family. Here is the story.
In my first two years with LearnKey, I have created a Job Ready Team from nothing, managed over 50 veterans' successful placement in careers and assisted with strategic initiatives…. All while learning the ins and outs of the IT field and training myself to be efficient and productive at home, which in theory sounds awesome, but when you are a social butterfly (as my parents say) it can pose a bit of a challenge.
The first year, I was distracted by negative questions like, "am I doing enough?" "can I do laundry during work hours, or is that illegal (I can be a bit dramatic)?", "do people remember that I even work here?" I felt like I was doing something wrong if I wore pajamas or workout clothes all day, I mean no one saw me, right?! This negative self-talk can be detrimental to productivity especially when you do not have the physical support of your peers and coworkers. However, one day, with the simplest conversation with someone who worked remotely, and who I admired, my work from home life changed.
I was at lunch with a mentor that I revere, a woman that has it ALL together, inspires others to persevere and does it with the utmost grace and integrity. She said to me, "do you ever take an early meeting without brushing your teeth?" – or something to that effect. OMG! YES! I was overcome with excitement, like a child that can only express the excitement with a squeal. This woman, perfect, powerful, professional, sometimes does not have time to brush her teeth before a meeting!! I was not alone. I did not have to be perfect. I had to be productive. And I was.
From that day on, I hit my stride working from home. I developed new processes, assisted massive amounts of students with resumes/job searching/and interviews, often in leggings and a tank top. I made sure I brushed my teeth BEFORE every meeting! I was killing the game.
At that point, I decided I needed a new challenge. I presented my Remote Year program to Jeff, the coolest CEO you could meet. His progressive mindset and passion to change the world fueled his approval of the program. To travel the world for a year… and work. Because of the two years I had been working remotely, and the accomplishments I have, Jeff said yes. This month, July 2017 – I shared the program with my LearnKey family. And with little shock, as the team is comprised of the most genuinely, supportive, creative and all around amazing people I have encountered, they approved of my adventure as well.
Now, I HAVE to go through with this. I have no choice. Nervousness excitement is the simplest way to describe what I am feeling. But it's more like an emotional roller coaster of EVERY AND ALL feelings you have ever felt. I hope I do not disappoint my team. I hope I can find good food. I really, really, really hope my Internet connection does not fail me in Thailand, or Prague, or Colombia! I hope I can afford shopping in every country. I hope people like me. With lots of hope, excitement, nervousness, and dedication, I embark on my journey January 2018. This blog is meant to inspire, relate to other remote workers, and hopefully make you smile. Until next month!
To learn more about Remote Year, please visit their website: https://remoteyear.com/
Photo: St. George Office Team