Skip to content

Microsoft Office 2016's "Tell Me" Feature
Hello everyone! Office 2016, released last fall, is not a major upgrade over Office 2013, but it does have some nice new features. Over the next few months, this blog space will occasionally introduce a few of those features as we coincide this with our producing an entire suite of Office 2016 courses this summer.
All of our Office 2016 courses will get you ready for both the Microsoft Office Specialist certification for Office 2016 (due out later this year) and, more importantly for many of you, get you job-ready for any position requiring proficiency in Microsoft Office. We will be building courses for Word 2016, Excel 2016, PowerPoint 2016, Outlook 2016, and Access 2016. I am lining up on-camera outfits to color-coordinate with the theme colors of Office as we speak (OK, maybe I'm not but you will have to get the courses to find out).
Anyway, here is a new feature in Office 2016: the "Tell me" feature. This is a big enhancement over the standard help feature as you can click in the "Tell me what you want to do" box. In Excel 2016, it looks just like this:

So, you can click in the box and type a phrase for what you want to do. In this example, I typed "add a page break" and look what I got: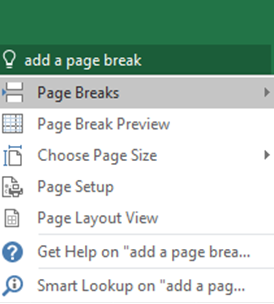 Needless to say, this is a big help in the Help feature (pun intended). Keep checking back for updates on our suite of Office 2016 courses.