Skip to content

When it comes to quality: In Ben we trust
Another exciting month for Better Learning Systems as we head into the 4th Quarter of 2013, and it has all to do with our great people. At LearnKey, we are celebrating another Employee of the Month, and this month our congratulations go to Ben Lee and all his hard efforts to go above and beyond in becoming one of our best quality control specialists in our Cedar City, UT office.
His efforts go far and beyond a quality control specialist – he is a true team player who has demonstrated his efforts through actions, not words.
Here's what his leader had to say about him during his nomination: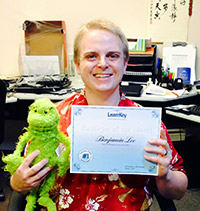 "Ben is an energetic, optimistic, hard working, and friendly team player. He understands most of our LearnKey training & courseware very well, therefore increasing the accuracy of our training. He always gets his work done by the end of the day, and will rearrange his schedule to make sure it is done. He identified a problem with how we keep QC records, and implemented a new QC record keeping process. Ben has always been willing to take on work that isn't necessarily QC related, and completes each task very well".
One of his most recent accomplishments was when Ben learned we were wanting to improve our A+ course; he took the training, provided detailed notes on what part of our courseware was effective and what could be improved, then went and took the exam passing the first time! Every challenge we bring to Ben, he has overcome it both in doing the actual work and in dealing with the people involved. He goes above and beyond what is expected and required for a QC person in order to make sure he is doing his job correctly. He has done such a great job with his own work, resulting in less and/or easier work for his team and supervisor.
Enough about work, take a minute to learn more about Ben with our fun survey and who he would take to dinner if he could pick anyone:
1. How many siblings do you have?
I am the oldest of four (boy-girl-boy-girl)
2. What is your favorite movie?
Howl's Moving Castle
3. What is your favorite band?
F.I.R.
4. What is your favorite vacation spot?
Utah
5. What was your high school's mascot?
This sounds suspiciously like a security question, so my answer is AES encrypted: U2FsdGVkX180cINkDwcQyNrisCDkN8SbTIoUfYpGl4Q=Sorry—no public key for you!
6. What is the weirdest combination of foods you have eaten?
Grass gelatin
7. What is/was the name of your favorite pet?
Таша
8. What was your first car?
Nissan–Datsun 280ZX
9. If you could go anywhere in the world where would it be?
Germany in December
10. Would you rather sky dive, bungee jump, zip line, or parasail?
Parasail
11. What is the funniest saying you have heard working here?
Carole: "Where have you been? We were worried sick!"
12. If you could eat dinner with anyone from the past, present, or future, who would it be and why?
My wife. I can't think of a good reason to go on a date with anyone else.
Please join me and the entire Better Learning Systems Leadership team in congratulating Ben and his awesome accomplishments!