Skip to content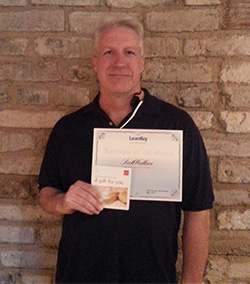 Our IT department rocks and one of the reasons is people like our newest Better Learning Systems employee of the month, Scott Wallace. He treats everyone (internal or external) like a customer, with respect, follow-up, and "can do" attitude. Over the past three months Scott was there for us and our customers at very critical times and we were so fortunate for that. He comes in on weekends if need be, takes on additional responsibilities and always demonstrates our core values because he's easy to work with, builds trust with people, and values the efforts of his peers .
One of the best experiences for me working with Scott is when he explained in simple terms what we needed to do to eliminate "points of failure" in our technical and operational support areas. I really respected how candid he was and not only expressed the problem but also recommended the right solutions. These recommendations keep our OnlineExpert.com enterprise up and running as well as our many office systems and servers.
His passion for making sure our teachers, students, and veterans have a good learning experience is clearly demonstrated by how he is always willing to take a call to help them any way he can. Could be an internet connection issue, web browser, configuration settings; he demonstrates patience and willingness at all times.
Take a minute to get to know some fun facts about Scott:
1. How many siblings do you have? Two.
2. What is your favorite movie? I can't answer that there are too many, so I'll give you my first favorite movie. Johnny Sokko and Giant Robot.
3. What is your favorite band?  Led Zeppelin.
4. What is your favorite vacation spot?  Anywhere I go together with Dawn & Izzie.
5. What was your high school's mascot?  An Alta hawk, which is a fictitious bird, btw.
6. What is the weirdest combination of foods you have eaten?  Not really sure?
7. What is/was the name of your favorite pet? Bogger & Izzie.
8. What was your first car? 1970 Z-28 Camaro.
9. If you could go anywhere in the world where would it be? I would take Dawn on a Disneyland world tour, or where ever she wanted to go.
10. Would you rather sky dive, bungee jump, zip line, or parasail? We've been zip-lining. Parasailing I guess.
11. If you could eat dinner with anyone from the past, present, or future, who would it be and why? How could I have dinner with someone from the future? There is no possible way in our fixed number of dimensions that I could possible know who will be in existence in the future. Not two days into the future, not two seconds into the future. Ok how about my wife this weekend at the finest Disneyland restaurant in California.
As previously stated our IT department rocks and Scott Wallace is a big reason for that! Thank you again Scott and congratulations!