Skip to content

Hello again. Before I dive into the subject of the title above, allow me to personally wish all of you the best of health physically, mentally, and emotionally during these trying times. I take encouragement in seeing all sorts of news stories about those out there helping their fellow humans as much as possible. I know when I go to the store, I'm saying an extra thank you to every employee I see.
On to our subject. Whether you're a college student, high school student, or adult learner and whether you are learning through our courseware or some basic subject courseware, learning online and in at least some kind of isolation is far different than learning in a traditional classroom. Having taught in both situations the past 20 years, I have three observations/hints that will hopefully help with the online learning modality:
Mix it up
Online learning has many facets. Sure, you have the video portion as the focal point of the course, but many of these online courses have other materials, like quizzes, textbooks, and, for computer programs, the programs themselves. Change up the learning mode frequently. Many of our courses have a suggested lesson plan/study guide in the back of our workbooks that break up the lessons into video, practice, and workbook time. Use those as your guide. Too long on one medium and you will start to wander. When you feel yourself needing to mix it up, do it.
Pace yourself
How long is a high school class session, typically? 45 minutes? 55 minutes? (It was 55 for me back in high school, I think. That was a long time ago.) Match each study session for each subject/course to that time. It is very difficult for anyone to be in learning mode for too long without a break. If you are not bound by time constraints, here is a good rule to follow: If you are starting to lose focus on what you are trying to learn, take a break. Get up, walk around, get a drink of water, do something. Now, you may be thinking, "but I study for 2-3 hours straight all the time." Good for you if you can do that. But studying is different than learning. Studying, for the most part, is a reinforcement of that which you have learned. It takes much more intense concentration to learn something new and one's attention span for that is usually smaller. If you don't believe me, try learning something new (like cooking for me) for two hours straight and see how much you remember after the first 30-45 minutes. There are numerous articles online that will back this up and I invite you to research this if you wish.
Test yourself
As you mix up your learning and pace your learning, test yourself often. I don't mean take a quiz or take a test here. I mean see if you can do that which you have learned, if applicable. Let me give you two examples: If you just finished watching a section of a Word course on how to build a table, open Word and build a table or two and put some data in there you can relate to. If you just finished watching a section on adding adjustment layers in Photoshop, open Photoshop, get a picture to edit, and make your own adjustments to the picture. Many of these certification exams are hands-on, meaning that you must perform tasks. What better way to get some practice than to create and edit a project that relates to something you like? Just to drive the point home, when I needed to refresh my Adobe Premiere skills before teaching the course last year, I edited some footage of something to which I can relate: my golf swing. If only I could edit the swing itself…
I digress. The point is: learning online is indeed different from learning in the classroom but, absent of a live instructor, you can make the rhythm of learning online make you feel as if you are in a classroom, through mixing up the learning, going at a reasonable pace, and testing yourself often through getting some hands-on practice.
Join me in welcoming in 2015!
Its always exciting to start a new year especially when you have a great team.  No better way to do that than talking about our great people. So it gives me great pleasure to announce our first 2015 BLS/LearnKey employee of the month, JJ Embleton, who is our lead on the LearnKey production design team.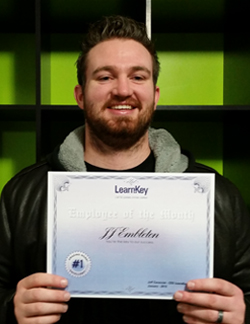 JJ's job is not easy as he plays a key role in making sure our course designs are modern, effective, and drive learning engagement. A great example is the work he did around our Security+ course the end of last year and how he lead the team fostering creativity and providing feedback.  Here is what his nominating leader had to say about his efforts:
"It's hard to choose just one course where JJ has exceeded my expectations as there have been several courses over the past six months where the Design team has had to meet crazy tight deadlines, Flash CC included. He ensures the courses we are releasing are up to the standard we have come accustomed, all while rallying the team alongside him. He does this with his strong organizational skills and a relentless positive attitude of 'it may be hard, but we can do it.'"
We are fortunate to have JJ as part of our team and along with being a great co-worker we wanted to share a little about his personal life. So take a minute to get to know him through this fun Q&A:
1. How many siblings do you have? One Brother and one sister both younger.
2. What is your favorite movie? Haha! It changes about every week for me but right now it is Big Hero 6.
3. What is your favorite band? That is also another one that changes often, but I have been listening to a lot of Archive lately.
 4. What is your favorite vacation spot? Anywhere with good vistas and good hikes. I love hiking with my family!
 5. What was your high school's mascot? The Panthers.
 6. What is the weirdest combination of foods you have eaten? I don't know if it is exactly food, but recently when I was super sick and probably doped up on cold medicine, I mixed Grape Airborne with milk… It ended up being pretty good.
 7. What is/was the name of your favorite pet? Tango. He was a Yellow Labrador I had pretty much all through growing up.
 8. What was your first car? 1998 Ford Taurus
9. If you could go anywhere in the world where would it be? I would love to go anywhere in the Scandinavian/Icelandic regions.
 10. Would you rather sky dive, bungee jump, zip line, or parasail? Sky dive.
11. What is the funniest saying you have heard working here? "Mmm, hot brownie…in my mouth"
 12. If you could eat dinner with anyone from the past, present, or future, who would it be and why? My Grandpa Chuck. I knew him well when I was younger but he passed away and I think it would be really fun to get to know him better as an adult.
Please join me in congratulating JJ on his recent success and thanking him for his contributions to our great team!
Sincerely,
Jeff Coruccini