Skip to content

I am pleased to announce our 2017 2nd Quarter Key Contributor Award goes to Brian Tremelling. He has shown us from the beginning over 8 years ago that when you believe in something, most importantly yourself, dreams can come true. This award is a big deal for our company as it is given to those that really demonstrate our core values: Ease, Value, and Trust, as well as our "Why" which is Improving Employability Every Day.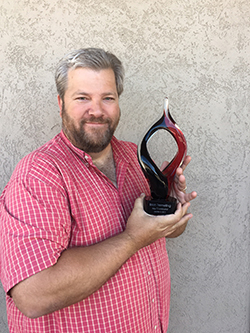 One of Brian's most proud accomplishments is how he led the way in building our vocational rehab programs, but what you don't see is his passion, commitment, and dedication to the stuff that is not fun. Building course bundles, creating and automating process flows, dealing with the internal and external challenges that come when you are focused on progressing our students so they reach their employability goals. However, this past quarter, in addition to managing the program, getting us approved in other states, and 110% dedicated to improving our process and technology, to make other jobs easier he alone took on technical work in order to enhance our student information system (SIS). The entire team got a sneak peak at it three weeks ago and are so excited to roll it out. We are close, very close – Brian led that cause and through bumps and roadblocks he handled it like a pro!
His peers were excited to hear what former Key Contributor Award Winners had to say about Brian:
Jason Manibog says Brian is a great organizer, always helping production, and always has the students' best interest in mind. Wyett Ihler shared: "I am impressed with Brian's dedication and ability to stick to something when he has a belief. That passion has served us so well. Willing to assert but does so in a very respectful manner." Ben Lee: "Brian is a great friend who always tries to understand/listen to the people he works with. Doesn't give up when he believes in something." Tristan Roberts: "Brian Keeps an open mind and always receptive to change for the better of the student and LK. Always gives an honest opinion." Kim Johnson: "Astounded by vast knowledge base, curricula, team player, always has the best interest of LearnKey."
So you hear: Passion, belief, team player, good listener, honest, respectful. I'd like to second all of those as he and I will always be tied together for dealing with our fair share of challenge, opportunities, and positive outcomes. He reconfirmed that if you do the right thing, things have a way of working out.
Please join me in once again congratulating Brian on his many contributions to LearnKey!