Skip to content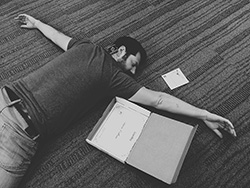 Not only is Aaron Colborn the newest addition to our LearnKey film and edit team in Salt Lake City, he is also this month's recipient of our Better Learning Systems Employee of the Month award. Several qualities resonate to the top of what impressed us most about his accomplishments and their alignment to our core values around ease, value, and trust
In just five (5) short months he has become certified in Adobe's Photoshop CS6 and Illustrator CS6.  He is extremely easy to work with, values his co-workers, and has won over the trust of the entire leadership team. Here's what his manager had to say during his nomination:
"As you can see Aaron is a very goal-oriented employee by taking advantage of what we do, which is produce certification training. He set his sights on these certifications early on and passed them in a very short amount of time.  He is a work horse.  I can always count on Aaron to meet or beat extremely strict deadlines while maintaining a high quality product.  Aaron brings more than 10 years of experience of editing and shooting to our team.  His experience allows him to help others on his team who are looking to add that pop or creative flair to the project.  We are thrilled to have Aaron on our team!"
Take a moment to ready more about Aaron and his life outside of LearnKey:
1. How many siblings do you have?
I have one older brother who is much smarter than me, but not nearly as handsome. And I smell better.
2. What is your favorite movie?
Anyone who knows me knows that is probably the hardest question that I can be asked. But if I had to narrow it down to one it would be Pulp Fiction, with Boogie Nights as a close second.
3. What is your favorite band?
Again, a tough one, but probably either Radiohead or Pink Floyd.
4. What is your favorite vacation spot?
Anywhere with a beach and booze.
5. What was your high school's mascot?
A grizzly bear. RAWR! Scaaaarrryyyy!!!
6. What is the weirdest combination of foods you have eaten?
Fried fish eyes. They explode like Gushers (the candy) when you bite down.
7. What is/was the name of your favorite pet?
Bender was the best and weirdest cat I have ever had. He passed away 3 years ago. 🙁
8. What was your first car?
A 1973 Dodge Dart. It was more power than a 17 year old should have.
9. If you could go anywhere in the world where would it be?
Argentina
10. Would you rather sky dive, bungee jump, zip line, or parasail?
I want to skydive into your heart.
11. What is the funniest saying you have heard working here?
"I'm all teeth and boogers." – Liz McEuen
12. If you could eat dinner with anyone from the past, present, or future, who would it be and why?
I would have dinner with Stanley Kubrick — at Chuck-A-Rama because their mashed potatoes are delicious!!!
Please join me in congratulating Aaron and congratulations on your Adobe certifications and believing in what we do!