The land of 1 million malls was left barren of Remote Year Kanyini on March 3rd, 2018. We left Kuala Lumpur, Malaysia, and landed in Chiang Mai, Thailand!
The Culture of Thailand
Can be summed up in 2 words: Food (which gets its own section) and Fun!
Thailand means "Land of the Free," and is a culture of some of the funniest and playful people I have encountered. As our climbing guide said, "if it isn't fun or food, it's not important."
The area we lived in was Nimman, which as one of my RY companions said looks like someone took all the things a millennial would love on Instagram and made a city from it. Cafes, fancy coffee, rooftop bars, vegan restaurants, art galleries, and cute local shops lined the streets of Nimman. The "fun" was apparent in the bars with bunnies, hedgehog cafes, slides and ball pits (for adults) in restaurants, and the flamboyant, hilarious and extremely talented lady boy performances. I even found a Philadelphia Eagles bar, with of course, amazing food.
Although Uber was available, transportation around town was usually in Tuk-tuks or Red Cars (Song-taew). Tuk-tuks fell under the fun category as they whirl around corners and small streets as if they are trying to eject you, followed by a small giggle from the driver. Not everyone's type of fun, but I enjoyed it!
Along with food and fun, I found that respect and courtesy was also among the top priorities of Thai people. This was expressed through greeting with a wai, a gesture of paying respect (put your palms together at chest level and bow slightly). Be sure to look if there are shoes outside, you probably should leave yours too.
The Food
Khao Soi, a magical mixture of sweet savory and spicy! Coconut milk-based, noodle soup either vegetarian or with any protein. I preferred the Seafood Koi soy with grilled squid. Yum.
7-11 toasties were amazing for late night treats as food places in Thailand close by 10:00P.M. (2200). As a night shift, toasties got us through the night, and some regretful mornings. Think of a buttery grilled cheese filled with anything from pork floss (my personal favorite), fish, or even sweet ones filled with chocolate. The 7-11 cashier would toast them up in a panini press, ready for consummation. Not sure why they are not in the states, because, they would make a killing for late night food.
Thai Tea is a sweet magical milky treat with condensed milk and lots of flavor.
One of the best meals I had, besides the one million bowls of Khao Soi, was a local famous street food stall. My brush with fame was Cowboy Hat Lady, as seen on Anthony Bourdain's show. She makes the most flavorful, fall-off-the-bone tender pork. You just have a seat (if there are any available), and servers bring you an amazing feast, all for less than $10 U.S. dollars.
Remote Year Experience (working and living)
Because there were so many Expats and many parts of the area we lived in did not feel foreign, it did not feel like I was in Thailand, just a trendy neighborhood in (insert any state here), which was not a bad thing, I was just looking for more of a culture shock when I entered the RY program.
The workspace provided by RY was efficient during the day, however, for night shift it was covered with mosquitos that swarmed the vibrant lights of the outdoor bathrooms. You can imagine the bug bites that followed. To stay awake on the overnight shifts we would make a game out of swatting them with an electric, tennis-racquet-sized swatter. I did not frequent the workspace during evening hours.
Chiang Mai had many co-working spaces in cafes and restaurants that accommodate the remote worker. You could work from a different place for the entire month (maybe more) without repeating.
Chiang Mai felt easy to acclimate to, welcoming, and kind. It is no surprise why many expats call it home.
And only one mall.
Laa-gon Thailand (I will be back).
Now on to Hanoi, Vietnam!
Kob-Kuhn Kah (Thank you)
Notable Experiences: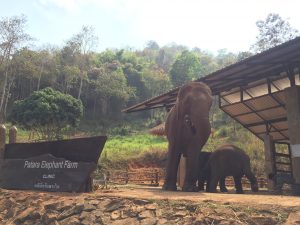 Thailand's Grand Canyon (no rules, just fun, and someone always gets hurt)
Southern Thailand Beaches (Krabi, Railay, and Tonsai)