Skip to content

Newest Employee of the Month Helps out wherever she can!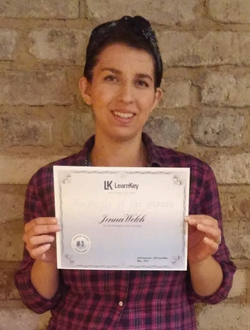 After just over six (6) months on the job our newest employee of the month has taken a "can do" attitude along with a great "team first" mentality.
That is why it gives me great pleasure to introduce Jenna Welch as this month's Better Learning Systems/LearnKey employee of the month! Not only has she learned various roles on the LearnKey Veteran Services team she is also cross-trained in areas of our client services and accounting support groups as well.  This just further demonstrates her ability to be flexible and take on projects that are not only in her area of expertise but outside her responsibility. A true utility player on our team!
Check out what her nominating manager had to say about Jenna's performance to date "Jenna Welch has shown us that she can adapt and change to what is needed to complete a project or task. She is extremely easy to work with and has already achieved Word & Excel 2013 Microsoft Certification. I trust that when I ask her to take on a task or project that she will complete it on time if not sooner. Jenna has proven to be a valued team player and we look forward to what we can accomplish with her as a part of the LearnKey family".
Take a minute to get to know Jenna on the personal side with this fun Q & A:
How many siblings do you have? 11 altogether (2 brothers, 2 sisters, 2 sisters-in-law, and 5 brothers-in-law)
What is your favorite movie? Star Wars!
What is your favorite band? No longer together would have to be Johnny Cash and the Tennessee Three, or the original E Street Band (RIP, Clarence Clemons). Currently together…it's a toss-up between Frank Turner and the Sleeping Souls, The Gaslight Anthem, The Menzingers, Against Me!, and Alkaline Trio. Please don't make me pick just one!
What is your favorite vacation spot? I love the mountains, but my most memorable vacation was in Tokyo
What was your high school's mascot? Panthers
What is the weirdest combination of foods you have eaten? Brownies and garlic cheese spread (delicious, by the way)
What is/was the name of your favorite pet? My family had two tomcats named Thomas and O'Malley
What was your first car? '98 Dodge Intrepid (not recommended without a bottomless maintenance budget)
If you could go anywhere in the world where would it be? India
Would you rather sky dive, bungee jump, zip line, or parasail? Definitely zip line
What is the funniest saying you have heard working here? Any/every time someone besides Brian says "Are we done here?"
If you could eat dinner with anyone from the past, present, or future, who would it be and why? My grandpa passed away last summer so I would love to have one more conversation with him.
While I agree that Jenna tells the truth not sure I am ready to try Brownies and garlic cheese spread just yet!
Please join me in congratulating Jenna on this award as we are delighted to have her as part of our Better Learning Systems family.
Regards,
Jeff