Skip to content

Newest EOM is no stranger to this award!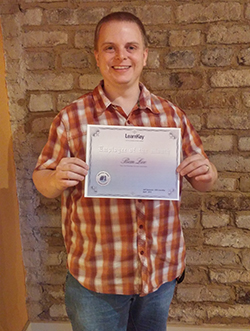 Back in October 2013 our employee of the month was recognized for his excellent commitment to quality control and going above and beyond to help us improve our A+ course. Fast forward a year and a half later and we are recognizing him again for doing great work all the time and keeping our core values front and center while he does it.
It gives me great pleasure to congratulate Ben Lee on being selected as our April 2015 employee of the month. In addition to this award he was also promoted to a Senior IT position within LearnKey at the end of last year and is becoming an outstanding overall team member with the same positive "can do attitude".
I know first hand what a great problem solver he is i.e. and getting him involved with other parts of the business is something that will be great for his career. That said, here is what his manager had to say during the nomination process:
"Before Ben joined the Tech Support team I knew of his ability to research and present information with aplomb.  He glides through such requests with Ease.  Since joining our team his Value has been truly measurable in the impact he has had in raising our collective knowledge and skills.  I can Trust him to dig in with a vengeance and deliver great results, such as with preparing us to move our Tech Support knowledge base to a new vehicle in the near future.  Ben is like a human vending machine that never fails.  You put in your money and he dispenses promptly, and it is always more satisfying than you expected."
He is such a great person please take a moment to get to know Ben on the personal side through this fun Q&A:
How many children do you have? One baby girl who will be here in June or July.
Who is your best friend and why? My wife is my best friend. She is the person I spend my alone time with. We can discuss anything with each other, and we both love exploring new things together.
Name your wife's favorite restaurant. It changes from day to day—and with pregnancy status—but she is a big fan of independent diners that provide excellent customer service and high-quality food, like Milt's Stage Stop, The Little Brick House, and The Pastry Pub.
What is it that you like most about your job and why? I love synthesizing raw data into a format that accomplishes a task or helps other people.
From whom at LearnKey have you learned the most? Whomever I am working closely with. I have learned a lot about time management and priorities from Bart. Val has helped me learn more about calm, effective communication. Sheena has taught me about the importance of procedure. Brian has been a great friend who has helped me understand my own talents and interests better. Kevin is teaching me about self-motivation and drive. Jeff and Lori have taught me a ton about kindness and generosity. I can't say who has taught me the most, but I can say that I have learned something from everybody at LearnKey.
Name a place you want to take your wife for vacation. I would love to take my wife to Germany for a month in autumn or winter.
What is your ideal dream job in the next five (5) years? My ideal job would entail helping other people gain literacy in language and music.
Name your favorite meal to cook. There are several meals that I enjoy cooking: 蛋饼(Chinese crepes), steamed Chinese food, Yorkshire pudding pancakes (British crepes), and Tomato soup with grilled ham and cheese sandwiches.
If you won a million dollars, name a cause or not for profit you would donate a portion of that to? I would donate money to local small business start-ups that could help make quality education available to both adults and children.
Again, please join me in congratulating Ben on this recent accomplishment and if you know him it's a pretty good bet in the future we will be saying "third time is a charm!"
Kind Regards,
Jeff Coruccini