Skip to content

Newest EOM keeps LearnKey looking good!
Join me in welcoming in 2015!
Its always exciting to start a new year especially when you have a great team.  No better way to do that than talking about our great people. So it gives me great pleasure to announce our first 2015 BLS/LearnKey employee of the month, JJ Embleton, who is our lead on the LearnKey production design team.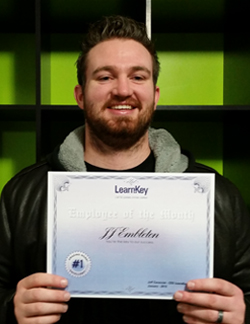 JJ's job is not easy as he plays a key role in making sure our course designs are modern, effective, and drive learning engagement. A great example is the work he did around our Security+ course the end of last year and how he lead the team fostering creativity and providing feedback.  Here is what his nominating leader had to say about his efforts:
"It's hard to choose just one course where JJ has exceeded my expectations as there have been several courses over the past six months where the Design team has had to meet crazy tight deadlines, Flash CC included. He ensures the courses we are releasing are up to the standard we have come accustomed, all while rallying the team alongside him. He does this with his strong organizational skills and a relentless positive attitude of 'it may be hard, but we can do it.'"
We are fortunate to have JJ as part of our team and along with being a great co-worker we wanted to share a little about his personal life. So take a minute to get to know him through this fun Q&A:
1. How many siblings do you have? One Brother and one sister both younger.
2. What is your favorite movie? Haha! It changes about every week for me but right now it is Big Hero 6.
3. What is your favorite band? That is also another one that changes often, but I have been listening to a lot of Archive lately.
 4. What is your favorite vacation spot? Anywhere with good vistas and good hikes. I love hiking with my family!
 5. What was your high school's mascot? The Panthers.
 6. What is the weirdest combination of foods you have eaten? I don't know if it is exactly food, but recently when I was super sick and probably doped up on cold medicine, I mixed Grape Airborne with milk… It ended up being pretty good.
 7. What is/was the name of your favorite pet? Tango. He was a Yellow Labrador I had pretty much all through growing up.
 8. What was your first car? 1998 Ford Taurus
9. If you could go anywhere in the world where would it be? I would love to go anywhere in the Scandinavian/Icelandic regions.
 10. Would you rather sky dive, bungee jump, zip line, or parasail? Sky dive.
11. What is the funniest saying you have heard working here? "Mmm, hot brownie…in my mouth"
 12. If you could eat dinner with anyone from the past, present, or future, who would it be and why? My Grandpa Chuck. I knew him well when I was younger but he passed away and I think it would be really fun to get to know him better as an adult.
Please join me in congratulating JJ on his recent success and thanking him for his contributions to our great team!
Sincerely,
Jeff Coruccini