Skip to content

Newest Employee of the month always a step ahead!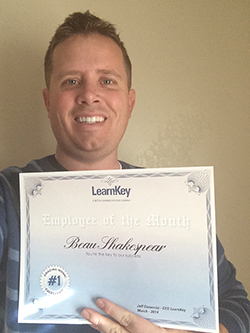 As we go into the holiday month of December it gives me great pleasure in recognizing our newest Employee of the Month. It has been a treat to watch him develop and grow over the past year into a true example of someone who demonstrates our core values (ease, value, and trust) each and every day. So please join me in congratulating one of my favorite team members, Beau Shakespear, our marketing and trade show coordinator, as this month's Better Learning Systems/LearnKey employee of the month.
Beau has become someone who not only gets the job done on time every time, but really "stays ahead" by anticipating the needs of his customers, our employees, sales, and marketing teams. He displays a true "can do" attitude and is  extremely easy to work with and has such an honest and caring demeanor. Trust me, we throw a lot of changes his way, such as: last minute hotel/travel revisions ( I am the biggest offender), urgent updates to our course release schedule, revising our course catalogs, trade show changes, and he does it all with a smile and never a sign of any frustration.
Because of this he has established a high level of trust with everyone in our company, brings tremendous value to our operating groups, and has the respect of not only our employees and leadership team, but also our LearnKey partners.
Take a minute to learn some fun facts about Beau and his family:
1. How many children do you have? One, Kezia Mae Shakespear
2. Who is your best friend and why? Definitely my wife. She puts up with me and we basically have telepathy. And we are constantly finishing each others… sandwiches? (two movie/tv show references right there =) )
4. Name your wife's favorite restaurant? Spicy Tuna. A sushi restaurant in Vegas.
5. What is it that you like most about your job and why? I love that I really never know what I am going to be doing each day. Also I really enjoy having the opportunity to work with all of the teams at LearnKey.
6. Who at LearnKey have you learned the most from? Hands down, Kim Johnson. Whenever there is a work decision I have to make I think W.W.K.D (What Would Kim Do)? But seriously she has taught me so much and helped me get the marketing team on track.
7. Name a place you want to take your wife for vacation? My wife would love to go to Ireland.
8. What is your ideal dream job in the next five (5) years? I need to win the lottery or find a rich relative. Because I would love to be a stay-at-home-dad. Kezi has me wrapped around her finger and I am totally fine with that. =) In reality I love my current job. I would like to see the marketing department grow and be doing some kick butt campaigns, high web sales, active social media presence, while promoting and protecting the LK brand.
9. Name your favorite meal to cook? I can make a mean pot of Gumbo.
10. IF you won a million dollars, name a cause or not for profit you would donate a portion of that to? There is an orphanage in Guaymas, Mexico that I have spent time at. I would makes sure they were taken care of.
Again, please join me in congratulating Beau as this month's BLS/LearnKey employee of the month, and now I am off to buy him lottery tickets in hopes of him winning the lottery, becoming a stay at home dad, and spending time with his lovely wife and daughter!
Happy Holidays!