Skip to content

Newest Employee of the Month all about the team!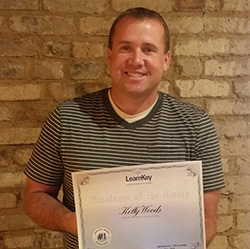 Like any other company we continue to try and get better at what we do. That could not be more evident than what has transpired over the past ninety (90) days on our LearnKey Veteran Services Team (LKVS). During this period we required everyone to "be all in" on what was good for our students. It required several team members to stop what they were doing and do what is good for the team, even if it required their other priorities to be put on the back burner.
Kelly Woods, an Adviser on the LKVS team and this month's BLS/LearnKey employee of the month demonstrated our core values by not only jumping in to help fix the problem, but took on a leadership role working with other team members on building a better process, assisted with finding good team members, and recommended a "team approach" for handling students with "a can do attitude" the entire time.
He demonstrated the value of his team members by trusting them and working on solutions vs. pointing fingers.  At a time when frustrations were high he made it very easy for team members to work with him on finding the best solutions that were the best for the team.
Kelly has a way about him that makes it easy for people to feel comfortable with him and he relates to people – a true gift, not only in friendship, but leadership and business as well.  A perfect example is what one of his peers, Kim Johnson, had to say when she nominated him. "At a time when I needed leadership support while making drastic changes to teams and processes Kelly supported me the entire way and I am so appreciative of that".
Here's a way for you to get to know Kelly a bit  on the personal side through a fun Q&A:
How many siblings do you have? 4 sisters and 3 brothers, I am 7th out of the 8
What is your favorite movie? The Ultimate Gift
What is your favorite band? Alabama
What is your favorite vacation spot? Kolob Mountain
What was your high school's mascot? Ram
What is the weirdest combination of foods you have eaten? I don't eat weird combinations
What is/was the name of your favorite pet? Buddy
What was your first car? 1976 Toyota Corolla
If you could go anywhere in the world where would it be? Jerusalem
Would you rather sky dive, bungee jump, zip line, or parasail? Zip line
What is the funniest saying you have heard working here? There is a cat on the heater vent
If you could eat dinner with anyone from the past, present, or future, who would it be and why? My little sister Tiffany who passed away suddenly last year. I would like to make sure that she really knew I loved her.
Please join me in congratulating Kelly on this achievement and his contributions to our company!