That is correct, our very own Colin Bell has been working hard to improve the user experience when navigating learnkey.com. His approach really demonstrates "less is more" as you can see from our home page and how we focus on students, educators, veterans and corporate enterprises.
This was no easy task, and for that he has been recognized as Better Learning Systems employee of the month. His hard work truly demonstrates and lives up to our core values: ease, value and trust. The site is much easier to understand, our value is in the quality of our courses with new releases up front and he trusted the input of his team members when planning the improvements. Colin had to accept a ton of feedback, sometimes not getting clear enough direction and last minute changes – he handled all of it just like a true team player.
Here's what one of the nominating leaders had to say about Colin: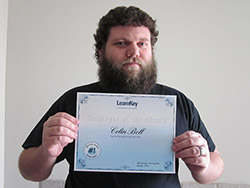 "We would like to acknowledge Colin this month for his outstanding work in updating and streamlining our website LearnKey.com. With his attention to detail he has created a cleaner and more user friendly website. Colin has been a trusted team player who ensures that we are representing our brand in a professional manner. We are truly grateful to have him as a part of our LearnKey family."
A perfect example of someone putting passion around his work.
We'd like to share with you some fun questions and answers so you can get to know Colin too:
1. How many siblings do you have?
One younger brother
2. What is your favorite movie?
I'm a sci-fi/fantasy fan, so Star Wars, Lord of the Rings, the latest series of Marvel movies, Serenity… Do people really only have one favorite movie?
3. What is your favorite band?
Same problem with the movies – I can't pick just one! You'll usually catch me listening to older Metallica, Machine Head, or Lamb of God… anything heavy with awesome drums is good with me
4. What is your favorite vacation spot?
Anywhere but home. Sometimes it's just good to get a change of scenery.
5. What was your high school's mascot?
Chief
6. What is the weirdest combination of foods you have eaten?
One of those times where I was hungry but needed to go to the grocery store, so out of desperation I started experimenting with what I had – I ended up combining tortilla chips with strawberry cream cheese, and it was surprisingly good!
7. What is/was the name of your favorite pet?
My cat Monty
8. What was your first car?
'99 Nissan Frontier my grandpa let me buy off of him
9. If you could go anywhere in the world where would it be?
I'd love to do a tour of Europe
10. Would you rather sky dive, bungee jump, zip line, or parasail?
None of the above. I'll keep my feet firmly on the ground, thank you.
11. What is the funniest saying you have heard working here?
I don't remember exactly what was said, but back when I first started working here, right before a Marketing meeting we had come up with a list of completely absurd phrases, and we decided that we'd each have to use one of them in a sentence before the meeting was over – and our manager Melissa had no idea about any of it. Her reactions were priceless.
12. If you could eat dinner with anyone from the past, present, or future, who would it be and why?
Patrick Stewart – because he's not only my favorite fictional Captain, but he's an overall awesome guy. Plus I'd try to get him to tell someone to "Make it so" at some point.
Please join me in congratulating Colin for his great contributions and keeping our core values front and center. Our vision at BLS has not changed "Dreams fulfilled through better learning" – thanks Colin for helping our cause!
– Jeff Coruccini