Skip to content

Newest Employee of the Month: Outstanding, Amazing, Invaluable and more!
"Outstanding", "Amazing", "Invaluable" – Those were the words used to describe Rikki McKim, our newest LearnKey employee of the month.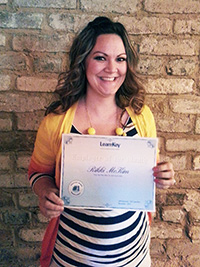 Rikki is a customer service champion known for a keen sense of how to "connect" with students, teachers and learners so she can help them use our LearnKey education courseware and OnlineExpert Learning Management System for the best experience. Anyone who has ever spent time with Rikki quickly understands why we feel so fortunate to have her as part of our team. She truly cares about our customers and values their commitment to us as a learning provider.
Here's what her leader had to say:
"I value her knowledge and her ability to dig in and understand our systems better. Her customer service skills are outstanding. Rikki is extremely easy to work with and truly cares about her coworkers and our customers".
There is a saying "happy employees create happy customers" and this is living proof that it works!
Learn some fun facts about Rikki:
1. How many siblings do you have?
8 siblings. 3 sisters and 5 brothers
2. What is your favorite movie?
Oh man, so many good ones. I really like the Pride and Prejudice from 1995. The mini series one with Colin Firth.
3. What is your favorite band?
Taking Back Sunday
4. What is your favorite vacation spot?
Anywhere that can be called a vacation. I really like camping on Cedar Mountain. Someday maybe I'll go on a huge vacation…
5. What was your high school's mascot?
Wolves
6. What is the weirdest combination of foods you have eaten?
Ummm…. Eel, avocado and rice… sushi.
7. What is/was the name of your favorite pet?
Bear.
8. What was your first car?
A little blue Daihatsu Charade. This is probably so inappropriate, but we used to call it the "Dai-S***-Su"
9. If you could go anywhere in the world where would it be?
Anywhere! I've always wanted to go to Egypt and explore the pyramids and old ruins.
10. Would you rather sky dive, bungee jump, zip line, or parasail?
Sky dive. Seems like it would be a bigger rush. I'm getting chicken in my old age though.
11. What is the funniest saying you have heard working here?
"Oh I did?…. Well I guess I did!"
12. If you could eat dinner with anyone from the past, present, or future, who would it be and why?
My Grandpa. He passed away 5 years ago. I would love a huge ol' grandpa bear hug one last time.
Please join me in congratulating and welcoming our newest employee of the month Rikki McKim!