Skip to content

LearnKey's Newest EOM: Making a difference one Veteran at a time!
One of the greatest things our employees do everyday is focus on how they can make a positive difference in the learning experience. In our Salt Lake City office where we shoot the courses with our experts, our production crew is making sure the objectives are covered and we cover the right topics. In Cedar City where we produce the courses tying in video, technical writing and graphic design ,once again its about how can we drive the best learning experience making our courses easy to understand.
Then there is our LearnKey veteran services team that is working hard to help every veteran who goes through our program to counsel and support them making sure they stay on track and meet all their milestones.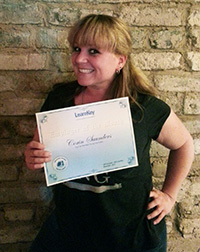 This is where our newest Better Learning Systems/LearnKey employee of the month Corin Saunders works hard to "make a difference" – not only for our veteran students, but also working to improve our systems and processes we use each and every day.
Following her nomination, here is what here manager had to say:
"Corin joined the Veteran Services team in April of this year, and from day one she has had a huge impact on the team and the students that we support. She has truly immersed herself into the position and become an expert in all of the multi-platform education programs that we provide. In the interviewing process, Corin made it clear that she loves to help people and feel that she is making a difference. That is very apparent in her work with over 100 Veterans with whom she communicates on a regular basis. She dispenses just the right amount of compassion and tough love to help our students to make the most of their time with LearnKey and gain the certifications they need to advance their careers".
We are so fortunate to have Corin as part of our team, and for fun, let us share a little bit of insight to her personally by way of these questions:
1. How many siblings do you have?
10
2. What is your favorite movie?
Eat, Pray, Love
3. What is your favorite band?
Pink
4. What is your favorite vacation spot?
Dublin, Ireland – so beautiful there
5. What was your high school's mascot?
Cougar
6. What is the weirdest combination of foods you have eaten?
Fries dipped in ice cream
7. What is/was the name of your favorite pet?
Delilah
8. What was your first car?
1986 Chevy Citation
9. If you could go anywhere in the world where would it be?
I love traveling and seeing new places, so anywhere is good with me.
10. Would you rather sky dive, bungee jump, zip line, or parasail?
Sky dive.  To let go of everything and take that leap.
11. What is the funniest saying you have heard working here?
Stop axe-ing me questions
12. If you could eat dinner with anyone from the past, present, or future, who would it be and why?
Leonardo da Vinci, because he did so many amazing things in his life time.
Please join me on congratulating Corin for her hard work and dedication to driving the best learning experience for our veteran students!
'Til next month!