Skip to content

Happy New Year means more great Employees of the Month!
Preparing for the start of the new year at LearnKey meant all kinds of exciting things we planned to kick off, such as just releasing a new course on how to learn online, MasterExams for IC³, A+ and Network+ courses, and our Salt Lake City and Cedar City teams are busy working on Adobe and more sales training. So what could be better? How about welcoming a new employee of the month: Michael Barker!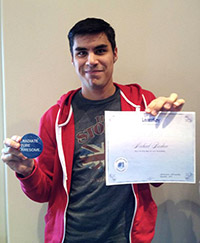 Michael is part of our design team and is working from our St. George office. I guess you could say he's one of our mobile workers, being that the rest of his team resides in another city. Here's what one of our managers in Cedar City had to say about Michael:
"I've had the great opportunity to work one-on-one with Michael in the past several weeks and feel he embodies our core values in so many ways: Ease—anyone who has worked with Michael on a project knows that it is easy to do. He removes ego from the equation and focuses on delivering the best overall product. Though known as the Ninja (due to his quiet demeanor) he communicates concerns or questions very easily. Value—everything Michael does he does with the best value in mind, and I don't think he even realizes it. Trust—Michael is trusted (did you see the LK certification emblem?) to do excellent work and trusts that we are the best at what we do."
When you hear such awesome things about a team member it just reinforces the importance of teamwork and accountability. We are so fortunate to have Michael on our team and really want to wish him thanks for all he does.
Here are some fun facts that should help you get to know Michael a little better:
1. How many siblings do you have?
Three. I've got a brother in the navy and two married sisters. I'm the youngest.
2. What is your favorite movie?
Either Office Space or Uncle Buck.
3. What is your favorite band?
The Fiery Furnaces.
4. What is your favorite vacation spot?
San Diego. I was born there so I love it.
5. What was your high school's mascot?
Warrior.
6. What is the weirdest combination of foods you have eaten?
I once had sheep and chocolate.. I don't recommend it.
7. What is/was the name of your favorite pet?
"Puppy". His real name was Rocky but my Dad started calling him Puppy and it stuck.
8. What was your first car?
2006 Ford Focus I bought after high school.
9. If you could go anywhere in the world where would it be?
Probably somewhere in Europe. England or Sweden or France.
10. Would you rather sky dive, bungee jump, zip line, or parasail?
Sky dive, definitely.
11. What is the funniest saying you have heard working here?
Probably Chey's impression of the Aunt Bethany from National Lampoon's Christmas
12. If you could eat dinner with anyone from the past, present, or future, who would it be and why?
John Lennon!
Thanks for all you do Michael and we are so glad you are on our team!