Skip to content

Lead by Example- LearnKey employee of the month's recipe
Writing is an important part of our business. It can be objectives for an upcoming course, a workbook or projects used in the classroom environment, or even a MasterExam thats going to help a student/learner get college or career ready, all very important parts of the learning experience. At LearnKey we are fortunate to have Brittni Traynor who, as a lead agent for our Technical Writing team, makes sure all our writing activities get done on time.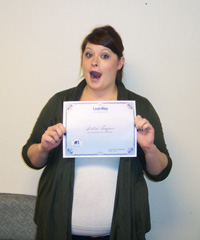 Even better, is that her leadership team voted Brittni our October employee of the month for hard work and never ending commitment to lead by example. That's right, she jumps in to help her team on a daily basis. Here is what her manager Brad Washburn had to say about her :
"As a team lead, she is very good at helping her team stay focused and motivated. She has forged a strong bond between the members of her team and turned them into a family".
We are fortunate to have Brittni who truly does demonstrate our core values around Ease, Value and Trust. She makes it easy for her team members to work with her, shows them her support and how much she Values their work each and every day, in addition to building a level of trust that motivates them to work together and operating at a high performing capacity.
Here are some fun facts about Brittni:
How many siblings do you have?

I have one younger sister.

What is your favorite movie?

Probably High Fidelity or Breakfast at Tiffany's.

What is your favorite band?

The Decemberists, hands down. But my top five are The Decemberists, Los Campesinos!, The xx, The Field Mice, and Purity Ring.

What is your favorite vacation spot?

Oregon. It is where I grew up and I miss nearly everything about it, especially the ocean and the rain.

What was your high school's mascot?

We were the Sunset Apollos. (Like the god of light and music, not a chicken.)

What is the weirdest combination of foods you have eaten?

I once ate a chocolate covered cricket… though my dad is a chef, so I am sure I have eaten some weird combinations in some "test" recipes.

What is/was the name of your favorite pet?

I have two dogs, Zimmerman (Zimm) and Margot. They are the loves of my little life.

What was your first car?

A Toyota Camry.

If you could go anywhere in the world where would it be?

Europe, I really want to visit all of those countries, especially Ireland and Spain.

Would you rather sky dive, bungee jump, zip line, or parasail?

Zip line.

What is the funniest saying you have heard working here?

Oh goodness… All of the LK quote book I think, I have been here too long to pick one thing.

If you could eat dinner with anyone from the past, present, or future, who would it be and why?

Wyett and I have actually been "planning" a dinner for a year or so now, the guest list is getting pretty big. But includes, Colin Meloy, Joseph Gordon-Levitt, Band of Horses, President Obama, the list goes on.
Please join me in congratulating Brittni for this great accomplishment as Employee of the Month and her lead by example leadership style!