Skip to content

Great People – Team Player stands out in Cedar City
There are a variety of different definitions around being a team player, but the one that stands out to me recently is the one demonstrated last month by Carole Heaton in our LearnKey video production office in Cedar City, UT. It is what made her our employee of the month for September 2012. Our team has just completed the roll out of: A+  2012, IC³ GS4 and our Career Readiness bundle of courses (14 in total). At the last minute, we identified several ways to enhance the learning experience for A+ 2012 which meant we needed people to work overtime. When we needed help the most to meet our deadlines, it was Carole Heaton who stepped up big time.
Everyone in our Cedar office had been working overtime hours, everyone was tired. These projects needed to be delivered on time and Carole was willing to go the extra mile and work practically around the clock to help us meet our deadlines. Here is what her manager had to say when he nominated her for employee of the month: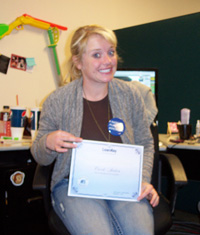 "It seems like I can come into the office at just about any time, day or night, and find Carole either at her desk or online on my IM. She has put in more hours over the last month than any other member of her team. She is always willing to do whatever is asked of her as soon as it is asked, which has provided that level of Ease in getting fixes and files done on a tight deadline. I can always Trust that her files will look good and the fixes she is asked to do will be done correctly. She is always a positive force in the office, despite doing the lion's share of work, and she can always be counted on to have a ready smile and a laugh available."
Everyday in some way shape or form we communicate about our core values – Ease, Value and Trust. Carole clearly demonstrated all three of them by making it easier for us to meet our deadlines, valuing the importance of these courses and what it meant to get them out on time, and trusting the broader team that these improvements did merit being implemented for the benefit of our customers/learners. I thank you Carole for all your efforts.
To learn more about Carole, here are some fun facts about her:
1. How many siblings do you have?
7
2. What is your favorite movie?
Willow
3. What is your favorite band?
Changes weekly. This week: Florence and the Machine
4. What is your favorite vacation spot?
Florida
5. What was your high school's mascot?
Buffalo (when referring to the girls from my school, the kids from other schools in our region used to say "Buffalos by name, buffalos by reputation." True story.)
6. What is the weirdest combination of foods you have eaten?
Mmmm… I'm pretty boring. I did try a chocolate-covered grasshopper in Mexico.
7. What is/was the name of your favorite pet?
A family pet ferret named Toby. He stunk but he was cute and loved to play games.
8. What was your first car?
An '79 Honda Accord. We called it "the Honda virus" on account of the family of mice living in the glove compartment that wouldn't open.
9. If you could go anywhere in the world where would it be?
Italy
10. Would you rather sky dive, bungee jump, zip line, or parasail?
sky dive
11. What is the funniest saying you have heard working here?
Whatever it was, I'm sure Chris said it…. yep! "Lee, you have a nice body…for rock climbing"
12. If you could eat dinner with anyone from the past, present, or future, who would it be and
why?
Seriously… Jesus. Imagine the questions you could get answered. But on a lighter level, Brian Regan. I like to laugh, he likes to make people laugh. And the only thing better than eating is laughing AND eating!
Please join me in congratulating Carole on this great accomplishment!