Skip to content

May Employee of the Month – Recognized for his "break/fix" skills!
At LearnKey, we have employees who take great pride in creating video training courses in our Salt Lake City, UT studios, those who are great at selling, supporting, marketing and promoting our courseware in our St. George offices, and those team members who finish our courses through post production process in Cedar City, UT.
Then there are team members like our May employee of the month Val Deuel, a super quality control agent who does everything he can to "break" our courses prior to them being released and loaded into our Learning Management System (onlineexpert.com). Our quality control team is a true asset to the LearnKey family, and we our proud of the great work they do.
His leadership team had these great things to say about Val: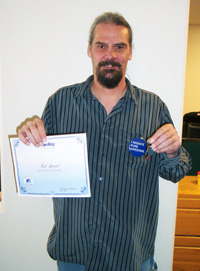 "He embodies our core values of Trust, Value, and Ease, and maintains a positive attitude in everything he does. Trust – Val can always be trusted to complete whatever work he is given promptly and efficiently. He is not afraid to ask for help or further instructions when needed and he never complains, regardless the task. He shows trust in his supervisors by being willing to complete whatever task he is assigned. Val embodies the core value of Value in his willingness and ability to complete tasks. Through Val's hard work he made it very Easy for us to select him as our May employe of the month.
Get to know Val a little more by his recent interview:
1. How many siblings do you have?
Two
2. What is your favorite movie?
13th Warrior
3. What is your favorite band?
Led Zeppelin
4. What is your favorite vacation spot?
Anywhere I have never been!
5. What was your high school's mascot?
Bobcat
6. What is the weirdest combination of foods you have eaten?
Bacon Cheese burger Pizza
7. What is/was the name of your favorite pet?
Beaver
8. What was your first car?
57 Chevy
9. If you could go anywhere in the world where would it be?
Australia
10. Would you rather sky dive, bungee jump, zip line, or parasail?
Sky Dive
11. What is the funniest saying you have heard working here?
Nothing that has been said, but the Nerf gun wars really crack me up
12. If you could eat dinner with anyone from the past, present, or future, who would it be and why?
Mom and Dad, so I could tell them about my kids!
Thanks again for all you do Val!