Skip to content

March Employee of the Month – Congrats to a LearnKey Client Services Rock Star!
At LearnKey and Better Learning Systems, all of our employees treat each other as customers. That goes one level up when your dealing with Gina Black from our client services team. If you have a process that needs improving, give it to Gina. Need assistance with customer support request, or client files? After you hit "send" on your email, you will get a response back so quickly, you will think the email bounced – that's just how fast and efficient Gina is all the time at getting things done for our LearnKey clients!
I am very proud to announce that Gina Black has been chosen our March employee of the month. Here's what Kim Johnson, her manager had to say: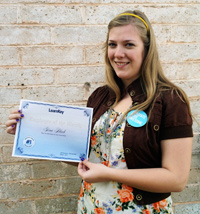 "Gina Black has been with LearnKey for over 4 years and has added an enormous amount of value to the Client Services team. She first started in our Marketing department assisting them with their daily tasks. About two years ago Gina worked part time as my assistant and as part of the Client Services team. She has an amazing ability to find the most efficient way to finish the task she has been given, which is why she truly is a rock star and our March employee of the month."
Take a minute to learn more about Gina as we again thank her for all her contributions!
1. How many siblings do you have?
I have 5 sisters and 2 brothers. I'm the youngest.
2. What is your favorite movie?
Almost famous. And also Anchor Man and Scott Pilgrim.
3. What is your favorite band?
Deftones for life!
4. What is your favorite vacation spot?
Disneyland. I want to live at Disneyland. It's like heaven. I hope I die and go to Disneyland.
5. What was your high school's mascot?
Dixie Flyers
6. What is the weirdest combination of foods you have eaten?
I enjoy eating chips and chocolate
7. What is/was the name of your favorite pet?
My Chihuahua Lulu Belle
8. What was your first car?
A maroon 93-ish Oldsmobile. It was Canadian and had kilometers instead of miles. It lasted about 5 months before the engine gave after racing it down Bluff street. (oops!)
9. If you could go anywhere in the world where would it be?
The Isle of Capri in Italy
10. Would you rather sky dive, bungee jump, zip line, or parasail?
I've been parasailing, and I would NEVER sky dive or bungee jump, so definitely Zip Line.
11. What is the funniest saying you have heard working here?
Probably "Boom Shaka Laka!" And also "Bimbo has a question on the Preventing Sexual Harassment course"
12. If you could eat dinner with anyone from the past, present, or future, who would it be and why?
Jesus Christ, fo sho. Too many reasons why.