Skip to content

February Employee of the Month
Another great opportunity to brag about our great employees, and no better way than to announce that Michael Watson has been named the employee of the month February.
Better yet, here's what his manager Jared Baker had to say about him: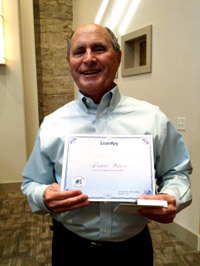 "Michael Watson is the epitome of a team player. He is always positive and willing to help in any situation. I am always amazed at his attitude and willingness to make it happen and be successful no matter what comes his way. Many times he has been in positions that would have been very easy to get discouraged. He remained positive and always displayed leadership and company loyalty no matter what. As we head into battle and fight for each of our successes in our respective areas in the company, I will always want to have Michael Watson by my side. It is an honor to work with him!"
During my tenure as CEO for LearnKey, I can honestly echo what Jared shares about Michael. He displays our core values each and every day: Trust – from his clients, Value – in his commitment to be the best resource to his peers and clients, and Ease – in how easy it is to get along with him. Thank you Michael for your commitment to LearnKey. We truly feel fortunate to have you on our team!
For those of you that don't know Michael very well, we have asked him to answer a few questions that might give you a little insight into just the type of person Michael really is:
1. How many siblings do you have?
2
2. What is your favorite movie?
The Godfather
3. What is your favorite band?
Ohio State Marching Band
4. What is your favorite vacation spot?
A mountain top in the Rockies
5. What was your high school's mascot?
Polar Bear
6. What is the weirdest combination of foods you have eaten?
There are no weird combinations
7. What is/was the name of your favorite pet?
Comet, a Starfire (Starfire is the Kennel Name – https://www.akc.org/breeds/weimaraner/index.cfm) Smartest & best guard for the family.
8. What was your first car?
Nash Rambler – Purchased from Irv White Buick in Los Angeles, CA. It lasted about 3 months. It took about 3 qts of oil for every tank of gas.
9. If you could go anywhere in the world where would it be?
Switzerland
10. Would you rather sky dive, bungee jump, zip line, or parasail?
Zipline
11. What is the funniest saying you have heard working here?
Really? With Jared Baker and Scott Walker there I have laughed until the tears rolled down my cheeks. Most People would not pick Keith but he has made me laugh until my sides ached. This is a great place to get your daily laughs.
12. If you could eat dinner with anyone from the past, present, or future, who would it be and why?
This is a very tough question and I have no idea how you pick someone from the future. There are so many choices but hands down A carpenters son Jesus of Nazareth. Why? Not enough time or space to answer but here is the menu: Wine, Bread, Fish, Cheese and Fruit.