Skip to content

Dallas Trip – Big Hats and Big Hearts
Dallas is one amazing place! I have fallen in love with Texas and had the pleasure of working with amazing people again this last week.
Monday – Airport Re-Route
I had an exciting start Monday night with only 30 minutes left until our arrival in Dallas-Ft. Worth; we received an announcement from the pilot that the airport had been closed due to bad weather! WHAT? Well we quickly stopped for gas in Wichita Falls and finally arrived in Ft. Worth around 12:40 AM, only to wait in line to allow all planes to drop off passengers all at the same time. I finally deplaned around 1:40 AM and then made a mad dash to the Rental Car center…
I have a picture of LEO the Lizard on the dash of my rental car at 2:05 AM in a line of about 15 cars trying to leave the airport rental check out.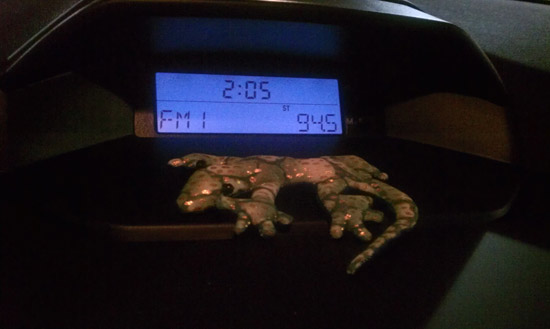 The time I actually got to bed you ask???? 3:05 AM. Needless to say I still love Dallas and couldn't wait to get started working with the group there. I was up and at'em at 6:00 AM and on the road to the first training.
Tuesday – Kim & Kay's Amazing Shrimp Cocktail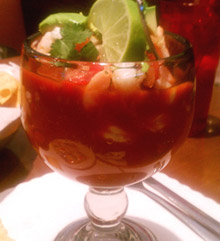 I enjoy my trips to Dallas every time I go there, and one person in particular makes it so much fun! Her name is Kay and I consider her a great friend. We try to get together and go to our favorite place to have the most amazing shrimp appetizer in Texas! It has a ton of shrimp, cilantro, tomatoes, chunks of avocado…it is amazing! After we finished up the trainings for the day, we headed off to our favorite shrimp cocktail restaurant.
Wednesday – The Cowboy and the iPad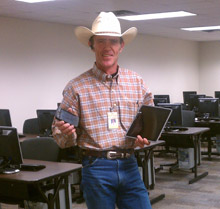 The training on Wednesday was held in a great facility in Crandall, TX. I was in the middle of the training when this man walked in, and I stopped in my tracks…I have never seen a cowboy with a Bluetooth earpiece, smart phone and an iPad all together in one package. He smiled and with his very polite southern accent said, "excuse me ya'll I just was stopping in to say hello". We all smiled and he left the room. I smiled turned around and told the group that I have never ever seen that combination where I come from. The ladies who work with him said "we will have to get a picture for you to take home". He was a very gracious man, and even on his Birthday he allowed me to take a picture with his all of his gadgets.
We received some great information from this group. One teacher told me how she really likes to make a big deal when a student passes the Post Assessment – the class will either sing a song or chant something to recognize the student. This is a great idea. It would be fun to have the students shout out a name or word like WHOA! Another teacher told us how she has come up with a solution to print less of the Student Workbook, and allow the students to turn in their workbook assignments electronically utilizing Office One Note and DropBox. I will be working with our LearnKey team to take these ideas and add them in to some kind of resource area for everyone to access. This is great information for all teachers and districts.
Thursday – Pottsboro, TX
The Thursday training was the last group for the week. I met some amazing people who were very insightful and provided me with some helpful information concerning our program, and how it is being utilized in the classroom at each of their schools. The biggest response was that this program is a great resource for their Administrative staff. It allows them to just look up the areas they might have questions about, like Mail Merge, or something they have forgotten how to do in Excel. The IT departments love it for deploying new software. If your district is looking to roll out Office 2010 this year, you can have the employees go through the first session of the 2010 courses to help alleviate the calls you would receive from them trying to function in a new program.
I LOVE TEXAS – BIG HATS AND BIG HEARTS! Also had to throw in a picture of my favorite exit in Texas, Kimberly Dr…