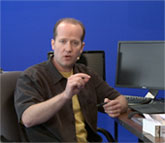 Within the Internet technology industry, certification is becoming more and more of a necessity. It has become the validation method for many employers that verifies you have the knowledge and skills they require to get the job done. Hence attaining certification in addition to education and experience is paramount if your goal is a career.
Consider also that when it comes to networking Cisco is the dominant force in the industry. If you work in almost any IT capacity, you will come across Cisco equipment, and you will be required to configure and maintain said equipment. To this end, Cisco has created a series of certifications that once attained will help you communicate to employers and colleges your level of knowledge and skill.
Some of these can be daunting. Gargantuan is a word I have heard in connection with the third level of this structure, the Cisco Certified Network Professional (CCNP). It is the certification that validates knowledge and skills required to install, configure, and troubleshoot converged local- and wide-area networks with 100 to 500 or more end-devices. It is also the first level of certification that requires a lower level of certification (Cisco Certified Network Associate).
To achieve the CCNP certification you have to know the concepts and protocols of routing and switching as well as be able to troubleshoot these devises. It is a gargantuan subject that requires serious study and preparation.
To this end, LearnKey recently spent time with Networking expert Tom Carpenter filming and developing a multimedia, interactive course to help individuals prepare for the CCNP exam. In 10 sessions (each between 1-2 hours) Tom will walk the viewer through all of the course objectives and offer good advice as well as tips for improving your networking ability.
The course combines lecture, graphic illustrations, visual demonstrations, and even interactive labs that allow the viewer to try some of the processes for themselves. In short, you receive an extensive training package from an individual who holds the certification himself and knows what the test will be like.
You don't need to try and tackle the material on your own and you don't have to pay college tuition to get the training. Click here to see the CCNP promotional video from LearnKey