Skip to content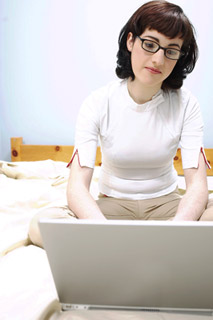 One of our Sales Representatives recently returned from the New Mexico Technology in Education (NM TIE) conference and one of the biggest things he noticed was the attendees were predominately from Higher Education, mostly community colleges and they all had one thing on their minds – distance education.
One reason distance education continues to be a growing trend in higher education is because it is convenient and you can fit it into your schedule. This has become increasingly important as costs of higher education continue to rise in a down economy, most students are working and going to school. Distance education allows students the opportunity to do both.
Distance education can also offer a student living in Iowa a chance to take college courses at a school in California that might offer them the degree program they want and is not available at their local college.
As a student in a distance education program both of these reasons were big factors in my decision to continue my education. I needed to find a way to take classes and continue working full time. I also was able to choose the program that I wanted even though it was not offered at the local college. So far it has worked out great, but there are drawbacks to it.
You have to be organized and stay on top of assignments because there are no teachers reminding you when they are due. Another issue is checking in and participating in discussions. Because you do not attend regular classes most programs do require you to participate in discussions as a way of keeping up your attendance and forgetting can result in a lowered grade. I have found these drawbacks minimal compared to the advantages distance education has to offer.
So what do you think about the distance education trend? Do you think distance learning will eventually replace traditional schools? How far will it go, high schools, middle schools, or even elementary schools?