Every month I get to brag about one of our team members at Better Learning Systems. Our newest employee of the month is known for leading multiple projects, always being clear and concise with his communications, and demonstrating the unique ability to maintain composure each and every day. That's right, LearKey's version of "cool hand Luke" goes to Tayce Robinson!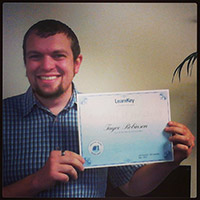 Not only has he demonstrated his core values, he has done it taking on a new lead role earlier this year as well. Here is what his Senior Lead Brittni Traynor had to say:
"I have been able to work closely with Tayce for over a year now and firmly believe he is the embodiment of the LearnKey core values- Ease, Trust, and Value. While working here, he has been perusing a master's degree, and has had his share of communal and other professional obligations, but you would never know he is being pulled in so many different directions. He is always willing to take on new challenges and meet increasingly tighter deadlines. He is the Senior Writer of the Writing Team and he leads his team to success on a daily basis. He has the patience of a saint. It doesn't matter the situation or the amount of pressure, he simply nods his head, shrugs his shoulders, and gets the project done. It is for these reasons, among a long list of others, that he exemplary team player in the Cedar City office. I am not sure what we would do without him".