Writing is an important part of our business. It can be objectives for an upcoming course, a workbook or projects used in the classroom environment, or even a MasterExam thats going to help a student/learner get college or career ready, all very important parts of the learning experience. At LearnKey we are fortunate to have Brittni Traynor who, as a lead agent for our Technical Writing team, makes sure all our writing activities get done on time.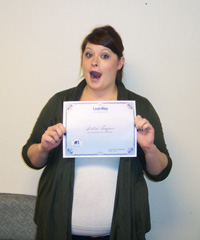 Even better, is that her leadership team voted Brittni our October employee of the month for hard work and never ending commitment to lead by example. That's right, she jumps in to help her team on a daily basis. Here is what her manager Brad Washburn had to say about her :
"As a team lead, she is very good at helping her team stay focused and motivated. She has forged a strong bond between the members of her team and turned them into a family".
We are fortunate to have Brittni who truly does demonstrate our core values around Ease, Value and Trust. She makes it easy for her team members to work with her, shows them her support and how much she Values their work each and every day, in addition to building a level of trust that motivates them to work together and operating at a high performing capacity.